Novum—World Of Graphic Design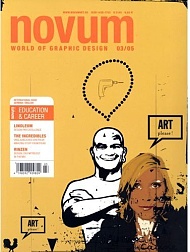 Novum is a German magazine covering the world of graphic design.
Novum—World Of Graphic Design is a monthly magazine featuring the best in contemporary graphic design, illustration, photo design, the new media, corporate design, advertising and typography. Novum also spotlights new talents and the latest trends.
It presents a balanced mix of visions for the future and state-of-the-art-design—to inspire all creatives in the world of international graphic design and advertising. Each month the "Novum Plus" section takes a close look at a different field of design. With themes such as paper, animation film, trade fairs and education, these informative, up-to-date reviews make Novum even more collectible.
The individual themes are looked at from the point of view of technical experts, clients and designers, making Novum a collectible and valuable source of reference for all those involved in design.