How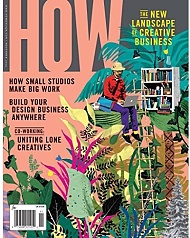 Ideas and techniques in graphic design.
Founded in 1985, HOW Magazine provides graphic-design professionals with essential business information, features cutting-edge technological advances, profiles renowned and up-and-coming designers, details noteworthy projects, and provides creative inspiration. The year-end Business Annual has become a respected resource for its articles about studios across the U.S. In addition, HOW holds annual Self-Promotion, International and Interactive Design competitions and features the results in special issues. Other frequently profiled topics include digital design, creativity, typography and paper.
The magazine is published in Cincinnati by F&W Publications. A group of 16 internationally recognized designers, including Primo Angeli, Marshall Arisman, Paul Davis, Milton Glaser, Richard Wilde, and Ann Willoughby, make up HOW's Editorial Advisory Board. Board members frequently provide article ideas, write stories, offer editorial input and serve as a solid connection to the design profession and industry trends.