Hand to Eye: Contemporary Illustration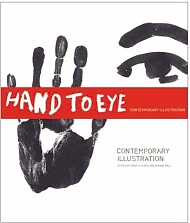 Commissioned artwork and experimental projects from around the world.
A sequel to the highly successful Pen & Mouse, Hand to Eye features forty-five illustrators from around the world. Including both commissioned artwork and experimental projects, the work collected here shows that cutting-edge computer illustration is still thriving and continues to push boundaries. In the last two years, however, there has been a noticeable move towards a handcrafted style, perhaps a logical reaction to the torrent of digital imagery. More and more image-makers are turning to traditional tools and techniques, and their methods vary widely: some work solely with pen, pencil and paint; others create images using tapestry and embroidery, and many incorporate digital elements into handmade art. Hand to Eye reflects these diverse approaches to image-making, from the cleanness of slick, vector-based work, through photorealism, to a lo-fi, handcrafted aesthetic; from exquisitely detailed, brightly coloured collages to simple, single-colour sketches.